Audiobook Publications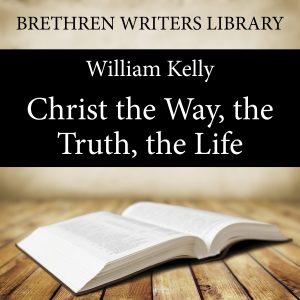 Brethren Writers Library Series Book 20
Christ the Way, the Truth, the Life
By William Kelly
Runtime: 1 hour
Unabridged Audiobook
In 'Christ the Way, the Truth, the Life' (John Chapter 14 verse 6) William Kelly clearly brings out the Gospel message and the centrality of Christ in all things.The Lord Jesus Christ said "I am the Way, the Truth and the Life, no man cometh unto the Father, but by me"
 
The WAY - Man is lost, and the world is as much of a wilderness as the sands of Arabia to a traveller who has lost his way. The Lord Jesus Christ came to seek and to save the lost. Jesus says, "I am the Way," and it is sure, unfailing. He is the Way. We have nothing to do but to take the way.
The TRUTH -The truth is the revelation of God, the manifestation of everything else, in Christ. In short, He manifests every one and every thing exactly as each is.
The LIFE -  How deeply we need the life of Christ, in order that we may live to God, How plain it is that the whole practical walk of believers flows from life in Christ, God declares that He has given me, if a believer, another nature, new life in Christ. Nicodemus had to learn that he not only needed to hear what Jesus had to teach - he needed to be born afresh and have eternal life.
A word about the Author : William Kelly (1820 – 1906) was born in Millisle, County Down, Ireland. Left fatherless at a young age, he was educated at Trinity College, Dublin where he excelled.
Much of his life was spent in Guernsey and then Blackheath near London.He is well known for being a friend of John Nelson Darby and editing many of his books. His supreme delight was in ministering in spiritual things to those whom he described as 'the few despised ones of Christ's flock'. For many years he edited the 'Bible Treasury' which is still in print today.
Publisher's note:
This book is part of the Brethren Writers Library series. These books go forth with the purpose of introducing the listener to the writings of men who were gifted of God as teachers 'for the perfecting of the saints, for the work of the ministry, for the edifying of the body of Christ'.
This edition copyright Words by the Wayside, 2015. (www.wordsbythewayside.co.uk)
| | | |
| --- | --- | --- |
| | £3.49 | |
| | £6.29 | |
| | £2.95 | |
Listen to sample on computer/laptop (press triangle)
Listen to sample on ipad, iphone or android - Click here