Audiobook Publications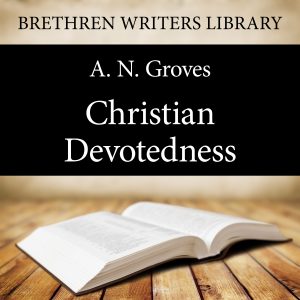 Brethren Writers Library  Series Book 7
CHRISTIAN DEVOTEDNESS
A.N. Groves
Runtime: 1 hour 51 mins
In Christian Devotedness, A.N. Groves expounds the Lord Jesus' teaching concerning stewardship of material possessions, exhorting all Christians to trust God to supply their needs.
From the Preface: "The purpose of this little book is to show that the dedication demonstrated by the early disciples, is without exception, enforced by the commands of our Saviour. And not only that, but it is illustrated by the conduct of the apostles and early Christians. The author therefore asks that all sincere disciples of Christ carefully weigh what is written here in the balance of the Sanctuary, not the balance of the world."
"Do not lay up for yourselves treasures on earth, where moth and rust destroy and where thieves break in and steal; but lay up for yourselves treasures in heaven, where neither moth nor rust destroys and where thieves do not break in and steal. For where your treasure is, there your heart will be also." Matthew 6.
A.N. Groves put into personal practice the principles of Christian devotedness which he advocates in this booklet, and proved the possibility and blessing of accepting the teaching of the Lord literally.
This booklet had a major impact upon George Müller (who married Groves' sister Mary), and through him on James Hudson Taylor and many other significant Christian figures.
A word about the author: Anthony Norris Groves ( 1795 – 1853) was born in  Hampshire, England and was the only son in a family of six. Having trained as a dentist in London, he set up practice in Plymouth.
He had a zeal for missionary work and although he felt led to go to India, in 1829 Groves and his wife Mary set out for a mission to Arabic-speaking Muslims in Baghdad, Iraq together with their two young sons, Henry and Frank, and accompanied by several Christian friends. There in March 1831 Groves suffered the death of his wife and a recently born baby daughter.
He returned home to England and in 1833 he visited India and returned there again in 1836 with his second wife Harriet Baynes. He continued preaching and teaching in India until ill health forced him back to England in 1852. He died the next year.  He considered his life a failure, and did not live long enough to see the worldwide impact of his ideas and example on a new generation of "faith missions" springing from the 1859-60 Revivals.
He has gone down in history as the "father of faith missions".
The significance of Groves lies in his desire to simplify the task of churches and missions by returning to the methods of Christ and his apostles described in the New Testament. As a missionary, his goal was to help indigenous converts form their own churches without dependence on foreign training, authorisation or finance. His ideas eventually found wide acceptance in evangelical circles.
Publisher's note.
 'How often has a book or tract been made a rich blessing to the soul, either in bringing one to Christ or building up or helping on in Him! How often may we have read some passage of Scripture and seen nothing in it until the Lord used some paragraph in a human writing to unlock its treasures to our hearts! None of us are self-sufficient. We are dependent one on another. We grow by that which every joint supplies. We need all the 'helps' which God has set in the body for our common profit and blessing.'
This book is part of the Brethren Writers Library series. These books go forth with the purpose of introducing the listener to the writings of men who were gifted of God as teachers 'for the perfecting of the saints, for the work of the ministry, for the edifying of the body of Christ'.
We pray that the rich mine of spiritual truths in their writings may be opened up to you that you may be built up in your most holy faith.
This edition has been produced with the kind permission of Gospel folio press and is available in printed form from Gospel folio.com
| | | |
| --- | --- | --- |
| | £3.89 | |
| | £3.40 | |
| | £2.95 | |
Listen to sample on computer/laptop (press triangle)
Listen to sample on ipad, iphone or android - Click here