Audiobook Publications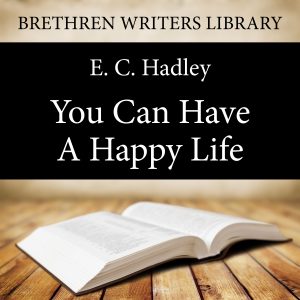 Brethren Writers Library  Series Book 5
YOU CAN HAVE A HAPPY LIFE
by EC Hadley
Runtime: 1 hour 30 minutes
"These things I have spoken to you, that My joy may remain in you, and that your joy may be full." John 15:11 Why are so many Christians restless, worried and unhappy, even though the verse above tells us clearly that this is not what God intends for His children? In this booklet, we hope to address this question to discover God's remedy so that we might be able to say with Paul, "I have learned in whatever state I am, to be content" (Phil. 4:11).
Included are chapters on : Dealing with Guilt, Seeking Peace, God Working, Peace of Mind, Confessing Our Sins, Joy of Forgiveness, Path of Peace, Following the Shepherd, Peace Assured, Trusting God, Value of Thanksgiving, Learning from Him, His Purpose, Power over Sin and Happy Living.
A word about the author: EC Hadley
In 1925 E. C. Hadley went as a missionary to the French Sudan (now the Mali Republic) in NW Africa. While on furlough in Switzerland, E. C. met his wife, Lydia Chevalley, and together they began to dream of a world-wide gospel literature ministry. A tropical disease forced him to leave the mission field and return to the USA. In 1931, the first gospel tracts started rolling off the press at Grace & Truth in Danville, Illinois. The first press room was the kitchen, and some of the printing equipment occupied the table between meals. From 1936 to 1950 the print shop was housed in two old railroad cars that had been placed side-by-side on the property near the house. They accidentally burned to the ground after the shop was moved to its present site. The need for a monthly magazine was made evident from the feedback of many recipients of gospel tracts who asked for a steady diet of encouragement and instruction. The first issue of Grace & Truth Magazine rolled off the presses in 1933 as much needed "food for the family of God." It has continued uninterrupted to the present time.

Publisher's note:
'How often has a book or tract been made a rich blessing to the soul, either in bringing one to Christ or building up or helping on in Him! How often may we have read some passage of Scripture and seen nothing in it until the Lord used some paragraph in a human writing to unlock its treasures to our hearts! None of us are self-sufficient. We are dependent one on another. We grow by that which every joint supplies. We need all the "helps" which God has set in the body for our common profit and blessing.'
It is each Believer's responsibility to grow in grace and increase in the knowledge of God, who has called us out of darkness into His marvellous light. It is our hope that in this format these writings may reach a whole new audience and lead to greater exposure for these precious truths of God.
This book is part of the Brethren Writers Library series. These books go forth with the purpose of introducing the listener to the writings of men who were gifted of God as teachers 'for the perfecting of the saints, for the work of the ministry, for the edifying of the body of Christ'.
We pray that the rich mine of spiritual truths in their writings may be opened up to you that you may be built up in your most holy faith. Many of their writings are freely available online at  Stem publishing.com.
This edition is published with the prayerful desire that the Lord Jesus Christ will use this God-given ministry in this form for His glory and the blessing of many in these last days before His coming.

Words by the Wayside, 2014.
| | | |
| --- | --- | --- |
| | £3.19 | |
| | £2.79 | |
| | £2.95 | |
Listen to sample on computer/laptop (press triangle)
Listen to sample on ipad, iphone or android