Audiobook Publications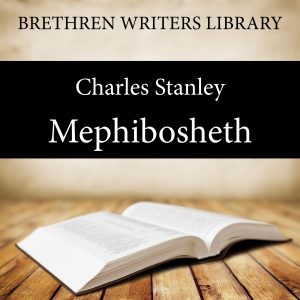 Brethren Writers Library  Series Book 3
MEPHIBOSHETH
by Charles Stanley
Runtime: 44 minutes
Mephibosheth, or, The Kindness of God.
In this beautiful exposition of the unmerited kindness of King David toward the poor lame orphan Mephibosheth, we see a picture of the kindness of God, through Jesus Christ.
The condition of fallen man, the wondrous grace of God in His kindness to poor lost sinners and the privileges of conferred sonship - "and thou shalt eat bread at my table continually" - are clearly brought out by this gifted expositor.
A word about the author:
Charles Stanley (1821-1890), of Rotherham, England, was left an orphan at the age of four. Converted when fourteen, that year he preached his first message.
At age twenty-three, with meager capital, he had begun his own hardware business in Sheffield. Then the businessman met Captain Wellesly, (the nephew of "the Iron Duke" of Wellington). Under his gracious teaching, the Bible became a new book to him. It was his daily study, and "he grew in grace and in the knowledge of our Lord and Saviour Jesus Christ."
His favorite Old Testament story was of Mephibosheth, the orphan who was tragically crippled. Speaking of his message on Mephibosheth, he remarked: "I believe the Lord rarely ever led me to preach from Mephibosheth without souls being converted".
Publisher's note:
'How often has a book or tract been made a rich blessing to the soul, either in bringing one to Christ or building up or helping on in Him! How often may we have read some passage of Scripture and seen nothing in it until the Lord used some paragraph in a human writing to unlock its treasures to our hearts! None of us are self-sufficient. We are dependent one on another. We grow by that which every joint supplies. We need all the "helps" which God has set in the body for our common profit and blessing.'
It is each Believer's responsibility to grow in grace and increase in the knowledge of God, who has called us out of darkness into His marvellous light. It is our hope that in this format these writings may reach a whole new audience and lead to greater exposure for these precious truths of God.
This book is part of the Brethren Writers Library series. These books go forth with the purpose of introducing the listener to the writings of men who were gifted of God as teachers 'for the perfecting of the saints, for the work of the ministry, for the edifying of the body of Christ'.
We pray that the rich mine of spiritual truths in their writings may be opened up to you that you may be built up in your most holy faith. Many of their writings are freely available online at  Stem publishing.com.
This edition is published with the prayerful desire that the Lord Jesus Christ will use this God-given ministry in this form for His glory and the blessing of many in these last days before His coming.

Words by the Wayside, 2014.
| | | |
| --- | --- | --- |
| | £2.49 | |
| | £2.19 | |
| | £1.95 | |
Listen to sample on computer/laptop (press triangle)
Listen to sample on ipad, iphone or android