Audiobook Publications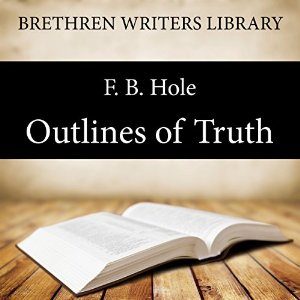 Brethren Writers Library  Series Book 1

OUTLINES OF TRUTH
by F B Hole
Runtime: 3 hours 49 minutes
"OUTLINES OF TRUTH' (Being Bible Talks on Important Subjects Connected with the Foundations of Christianity) explains many foundational scriptural truths in an easy to understand way, and includes subjects such as : Faith & Works, Peace & Deliverance, Safety & Sanctification, Law & Grace, 'Sin' & 'Sins', The New Nature & the Old, 'Blood'& 'Water', Grace & Discipleship, Election & Free Grace, Israel & the Church, Worship & Service, The Rapture & the Appearing.
This valuable book supplies sound Biblical teaching for today's Church among whom is much misunderstanding and lack of scriptural knowledge.


A word about the Author:
Frank Binford Hole( 1874-1964) was a man of God. The conspicuous feature of his life was that he lived and laboured in the Christian Faith, and was constrained to do so by personal experience of the love of Christ. At an early age he became a full-time worker in the service of Christ in UK Assemblies. His gifts from God manifested themselves in three different ways: firstly as evangelist; secondly as teacher; and lastly as publisher. He wrote several valuable books, "Outlines of Truth", "The Great Salvation" and another one equally valuable "Foundations of the Faith". He also edited and contributed many articles to a small periodical called "Edification" and for many years "Scripture Truth".

Publisher's note.
'How often has a book or tract been made a rich blessing to the soul, either in bringing one to Christ or building up or helping on in Him! How often may we have read some passage of Scripture and seen nothing in it until the Lord used some paragraph in a human writing to unlock its treasures to our hearts! None of us are self-sufficient. We are dependent one on another. We grow by that which every joint supplies. We need all the "helps" which God has set in the body for our common profit and blessing.'
It is each Believer's responsibility to grow in grace and increase in the knowledge of God, who has called us out of darkness into His marvellous light. It is our hope that in this format these writings may reach a whole new audience and lead to greater exposure for these precious truths of God.

This book is part of the Brethren Writers Library series. These books go forth with the purpose of introducing the listener to the writings of men who were gifted of God as teachers 'for the perfecting of the saints, for the work of the ministry, for the edifying of the body of Christ'.
We pray that the rich mine of spiritual truths in their writings may be opened up to you that you may be built up in your most holy faith. Many of their writings are freely available online at Stem publishing.com.

This edition is published with the prayerful desire that the Lord Jesus Christ will use this God-given ministry in this form for His glory and the blessing of many in these last days before His coming.
Words by the Wayside, 2014.

Reproduced in this format with the kind permission of copyright holders Scripture Truth Publications,31-33 Glover Street, Crewe, Cheshire CW1 3LD and is available in printed form entitled 'Salvation' ISBN 0-901860-17-4 from www.scripture-truth.org.uk
| | | |
| --- | --- | --- |
| | £10.79 | |
| | £9.44 | |
| | £5.95 | |
Listen to sample