Audiobook Publications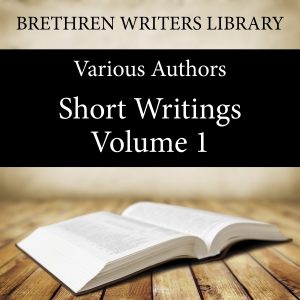 Brethren Writers Library Series Book 19
Short Writings Volume 1
By Various Authors
Runtime: 1 hour 13 minutes
Unabridged Audiobook
Comprising :
The Loveliness of Christ , by Hamilton Smith
We need every Scripture for conviction, correction, and instruction; but the Scriptures that present "the things concerning Himself" must have a special charm for the Christian. It is this that makes Psalm 16 so attractive, for it sets forth the moral perfections of Christ, the perfect Man, as He trod the path of life through this world of sin and death.
Here, then, we have portrayed in all its blessedness the inner life of a perfect Man
           
Faithfulness, Fruitfulness and Fragrance, by F S Marsh
AMIDST the many beauties which shone in our Lord Jesus when here, there were three distinctive features – faithfulness, fruitfulness and fragrance.
While these were seen perfectly in Him, it is the desire of the heart of God that the same features should be reproduced in those who love our Lord Jesus Christ, as left here to await His return.
Counsels to Young Christians, by Walter Scott
This wise advice will help young believers on their Pilgrim way.
First and formost Grip God's Word; get anchored on the rock of imperishable Scripture. These subjects are also examined - Two Natures and the Holy Spirit, Amusements, Prayer, Bible Reading and Study, Choice of Companions, Love and Marriage, Behaviour and Conversation.
Publisher's note:
This book is part of the Brethren Writers Library series. These books go forth with the purpose of introducing the listener to the writings of men who were gifted of God as teachers 'for the perfecting of the saints, for the work of the ministry, for the edifying of the body of Christ'.
This edition copyright Words by the Wayside, 2015. (www.wordsbythewayside.co.uk)
| | | |
| --- | --- | --- |
| | £3.49 | |
| | £6.29 | |
| | £2.95 | |
Listen to sample on computer/laptop (press triangle)
Listen to sample on ipad, iphone or android - Click here