Audiobook Publications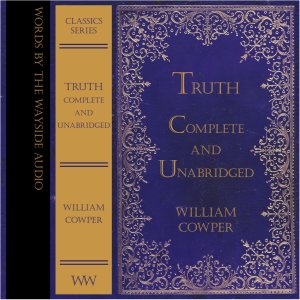 Words by the Wayside Classics Series
TRUTH (complete and unabridged)

By William Cowper
Runtime: 34 minutes
Unabridged Audiobook
Truth (complete and unabridged)
by William Cowper
read by Alex Wyndham
William Cowper's classic poem 'Truth'.
'…. Majestic in its own simplicity.
Inscribed above the portal, from afar
Conspicuous as the brightness of a star,
Legible only by the light they give,
Stand the soul-quickening words—believe, and live…'.
William Cowper (1731 – 1800) was born in Hertfordshire, England. His hymns and poems are well known all over the world.
| | | |
| --- | --- | --- |
| | £3.39 | |
| | £2.97 | |
| | £2.95 | |
Listen to sample on computer/laptop (press triangle)
Listen to sample on ipad, iphone or android - Click here